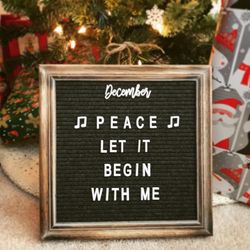 As we rapidly approach Christmas morning—whether we are ready or not, it's often harder and harder to keep a sense of peace with us in all of the flurry that is the modern-day Christmas season. Even with trying to "simplify" this year due to my illness and healing process, it's amazing how the extra to-do's add up and the days fly by. 
And as I sit here, with a randomly swollen knee and painful joints that are making me scale down my to-do list for the day, like trying out that new vegan cookie recipe as special holiday treats and finishing the wrapping or even just cleaning the shower, I can choose to be disappointed or I can realize that we really have everything we need, even if the details don't go the way I planned.
This small lyric snippet reminds me that, in order to have a peaceful holiday and a peaceful home, peace must truly begin with me. But how? What I'm realizing more and more is that peace isn't external. It's the deep assurance that all will be well no matter what happens. That through all things God can breathe peace into my heart and settle my hurried spirit. Christmas time reminds us that Christ is the Prince of Peace, and all we have to do is "come and see"—focusing our vision on what ultimately matters in this and every season—in order to have that peace fill our hearts. The irony is that we make ourselves carry such heavy burdens, especially at the holidays, when Christmas is actually about the One who came to give us rest: "Come to me, all who are tired from carrying heavy loads, and I will give you rest" (Matthew 11:28). ?
This year, let's lay aside the burden of striving for perfection, which we cannot attain anyway, and exchange it for the Peace which surpasses all understanding (Phil. 4:6-7). Come and see...❤️